DATES NOT AVAILABLE FOR BOOKING:
Making your appointment:
Please email or call us to make an appointment. The meeting usually takes about 30 minutes to an hour.
If you prefer, we can easily plan your wedding via email as we provide a personal online purchase order form for you with real time updates which enables us to easily communicate with you during the preparation process.
Columbus/Central Ohio Brides Appointment Locations:
All appointments will be held at Columbus International Airport (CMH), Ohio State Airport, or Fairfield County Airport. Please call or email us to schedule your appointment.
Columbus International Airport / Million Air (CORPORATE PLANE)
4130 East 5th Ave Columbus, OH 43219
For Directions: Million Air Phone Number: 614-238-3900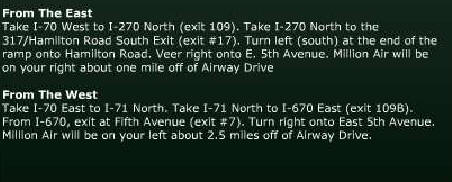 The Ohio State University Airport
2160 West Case Rd Columbus, OH 43235
For Directions: OSU Airport Phone Number: 1-800-777-5488
Fairfield County Airport
3430 Old Columbus Rd NW Carroll, OH 43112
For Directions: Fairfield Airport Phone Number: 1-866-FAIRAIR
Time:
For the 2007 season, our appointment schedule is :
Friday : usually after 5:00 PM
Sunday : usually after 5:00 PM
If these days or times do not work for you, please email or call us and we can find a better time that best fits your schedule.
How to Book the service:
We will need 50% or $300.00 max deposit to book your wedding date, which fully refundable.
Please email us the date, locations, and service you need including: flowers, chair covers, rentals, etc. Feel free to use the online order form below to aid you in your wedding floral planning. Once you have completed this form, please forward this to us via email.
Click here - New Bride Online Order Form
Email: info@rosesforweddings.com Ph: 216-923-1356, 440-227-0488 or Toll Free: 877-224-0563
Payment can only be made by Check, Direct Deposit, Visa, or MasterCard
Should you decide to cancel the service for any reason, we will refund 100%
of your deposit given you provide at least 6 weeks notice prior to the event.
Please reserve your date quickly, as our 2007 calendar year is filling up quickly.
How to make payment:
Requirement:
Prior to the meeting, you may submit the following information regarding your wedding via email:
- Contact number (just in case for cancellation)
- Date, Time, and Locations (Ceremony and Reception)
- Your Flower and Decor Wish List (Please select example images from our website or send your favorite pictures so we can keep them in your file.)
- Size of Your Wedding Party
- Approximate Number of Guests
We will keep your comprehensive file online so that you can view your order anytime from our
website. Also, we can meet for consultation or easily plan your wedding via email
or phone.
Where:
Columbus International Airport / Million Air
4130 East 5th Ave Columbus, OH 43219
For Directions: Million Air Phone Number: 614-238-3900
The Ohio State University Airport
2160 West Case Rd Columbus, OH 43235
For Directions: OSU Airport Phone Number: 1-800-777-5488
Fairfield County Airport
3430 Old Columbus Rd NW Carroll, OH 43112
For Directions: Fairfield Airport Phone Number: 1-866-FAIRAIR
Sincerely,
Ety Brainard
Thank You so much for having Roses For Weddings fill your flower needs